Statistic & Priority
Because of the fucked up change in 5.3 to PvP Resilience and PvP Power. It is safe to say that resilience is worthless, and PvP Power is valuable until some point, you do need PvP Power but in most cases, 10k is enough (minimum amount of DPS imo, 400 PvP power = 1 % damage, 25 % damage on PvP).
There are other variables for your spec, therefore in some slot PvE Gear is better, for example the PvP trinket for caster give you lousy 1300 Pvp Power and 2-3k Spell Power (not INT). It is obvious that PvE trinket which have int proc is much better. On Healers, the spirit trinket from inscription or the horridon trinket is a popular choice for hume healers, due to their extra trinket slot. If you are confident on your survival capability as healer you can put spirit trinket too, but I'll suggest you to get some Hp+ or other defensive trinket since the burst damage now is pretty high.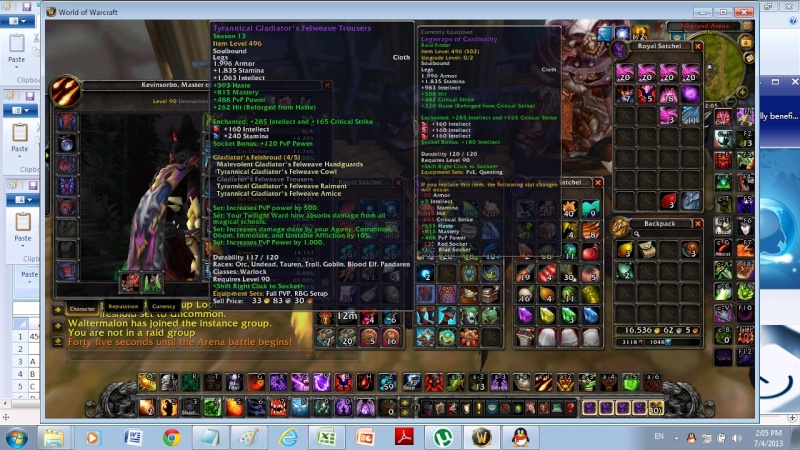 On this picture above I can give you a clear description of how a PvE gear can be better for PvP. In here I got 502 lfr pants and 496 tyrannical pants, of course when you got into arena, bg, rbg the item is automatically adjusted to 496 ilvl. On the picture you can see :
1. Armor - equal => 1996 armor
2. Stamina - equal => 1835 stam
3. Intellect - PvP pants got 1063, PvE pants got 983. So the PvP Pants have 80 intellect advantage
HOWEVER
, the PvE pants give you 3 red socket (ilvl and stat are adjusted for pvp area, but the socket isn't) and +180 int bonus while the PvP pants give you 1 red socket 1 blue socket, 120 pvp power.
4. Socket and bonus summed up,
PvP Pants : 700 PvP Power, 160 int, 80 int from the blue socket ( assuming you gem purple int gem + pvp power) => 700 pvp power + 240 int
PvE Pants : 160 intx3 + 180 int. 660 int
So it comes to (700 pvp power + 240 int) vs (660 int) on the above I already mentioned about the usefulness of PvP power, they are useful to some extent so in here the 660 int is better. Not to mention the secondary stats (on destruction warlock perspective, the useful stat are : Hit, Mastery, Crit
) the PvP pants give you haste and mastery, while the pve pants give you hit and crit. So it is quite obvious that the PvE pants is better.
---------------------------------------------------------------------------------------------------
Please keep in mind that this is a comparison between 496 PvE and 496 PvP, even when you disagree with my opinion on PvP Power, you can't deny that even when you believe the PvP Power is better the difference is really slim. So obviously 496 PvE Gear is way better than 476 PvP Gear.
----------------------------------------------------------------------------------------------------
In short, all you need to do is to get a substantial amount of PvP Power and bonuses, like the weapon and pvp gloves, and 4 set pvp item bonus. Then you can use other gear depend on your preferences, as for which gear is BiS for your class/spec I don't know other classes so don't ask me, google or look up in forums. Just use your logic and jugement because for some reason there are a lot of shitty useless guide on the internet.