excuse my language. PLEEEEEEEEEEEEASE excuse me.
But....
Quote :

the QQ2005 no longer works.
Quote :

This edition is too old to work,now the new version is QQ 2007 beta1 XP
I dont know Salovalty that much. So someone joining ownage on his "i don't know WTF i am talking about"-trip came as quite a surprise to me.
Now, let me beg you again. ALL OF YOU!!!
THINK!
1) why would i post something, making a statement trying to help others, if it weren't true???
2) why would i write something without knowing it (am i ownage?)?
Now, in order to clarifi a few things. QQ is a VERY widespred software in China. China has widespread viruses, trojans and tons of crap on the net. QQ being most popular, its also one of the primary targets and serves many to picky back crap into your PC and therefore infest it.
Judging by the quality of research some of our forum members do before they post a comment (you REALLY piss me off with writing crap without having the slightest idea what oyu are saying, stating me as incorrect!), my guess is you might as well get infected.
BETA versions are the worst choice.
Anything that has been out there long enough (QQ wise) is safer.
the 2005 version is FULLy english, gives NO BUGS, has no trojans, no crap and nothing EVAR.
If your PC is configured correctly, it should not pose any threat higher than MSN.
you can likewise use video conference, voice, send files, and do AAAAAAAAAAAAAAALL the rest of things with people who use latest beta.
So no need for the beta.
Now........ (drums rolling) for all the doubts, the screenshots.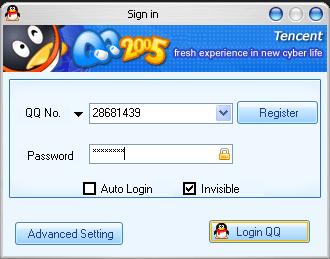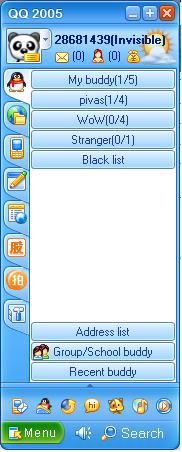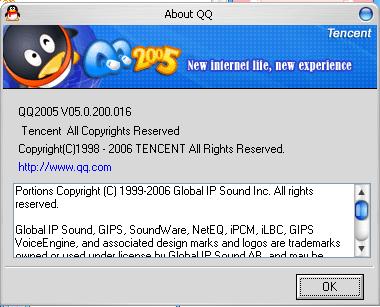 Please note very well that you can see QQ 2005 everywhere and that its in english.
if you dont know how to use google, i send it to you. PM me.
i hope now you guys will learn to backup your statements, because you apparently didn't try nor search nor use this AT ALL.
so just because we are in 2007 and this one says 2005, it doesn't mean it won't work.
if i am wrong, then PLEASE PLEASE forward me your installation file, so i can try myself why you couldn't make it work and send you mine.
enough now. i am pissed off now, and thanks to you it'll probably reflect in the next 14 unread topics i might answer. :-(
EDIT: i edited language out because of new official forum rules. totaly nullifies how angry i am now.